Just take a look at what Jab Comix brought you this time. I'm sure everyone enjoys a slutty maid episode once in a while, so here it is. She was doing her daily routine when her boss started hitting on her, of course she had a crush for him from the beginning. He started to undress her, massaging her impressive knockers and fingering her eager pussy, while she was stroking her huge tool. Everything was ok until they heard someone breathing hard near the bedroom door. Check out the rest of the pics and enjoy a fresh and hot scene with one hot and sexy babe getting some serious cock.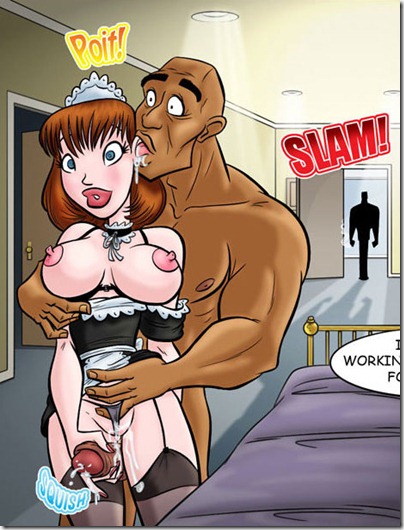 Well it's actually understandable why she'd have a crush on him to begin with, as this black stud packs quite the nice and big black cock. And she does love huge cocks. Anyway, sit back and see her taking his cock between her thighs, and see her stoking it nice and hard with her masterful hands making the guy feel in heaven. And she continued to do this until the guy blew his load, and it seems that at the same time they had a unexpected visitor. Just take a while to see the whole scene, and enjoy it everyone. We'll be seeing you guys next week with some more amazing updates like usual. Bye bye!
 Watch here this slutty maid stroking a fat tool!