Jab Comix is here with the latest episode for you guys. Sharona called her man over in the middle of the night for a quickie, but things didn't went as expected. After sucking his huge tool and swallowing all the jizz she got, it was her turn to the pleased. So her man shoved his huge tool in her tight pussy stretching it, but he was king of rough so she started kicking his tool. Check it out and watch another fresh and sexy scene with yet another sexy and busty cartoon babe raking some nice and hard cock in her pussy.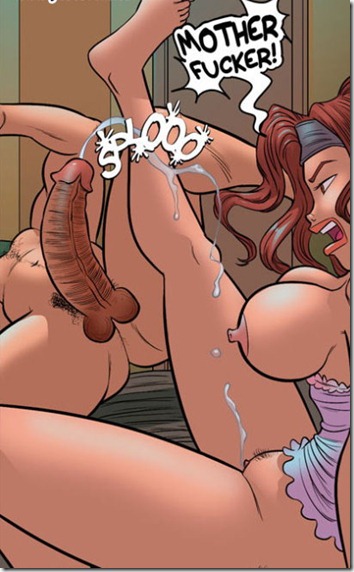 >Well the horny babe does need her regular supply of cock as you know by now, and when she gets like this there's no other choice than pleasing her. Sit back and enjoy seeing her making her man fuck her nice and hard today. She just adored the feel of his nice and big cock in her pussy. Well she told him to unload on her body when he finishes, but it seems that the guy just couldn't hold blowing his load inside her pussy, and this made the babe very very angry. Well comedy is comedy too, so have fun with the scene everyone!
Check out slutty Sharona getting all rough and naughty!